A sign that can be put up at the ends of rows of shelving to assist identification and orientation of the installation.
A label can be inserted on either side of the holder.
The signs clip into the hooks on the web of the upright.
Sign Holder
Size: 1.6 mm thick
Material: Steel
Finish: pre-galvanised
Sign Insert
Size: 148 x 105 mm
Material: Cardboard
Finish: white
Sign Cover
Size: 148 x 105 mm
Material: Celluloid
Finish: clear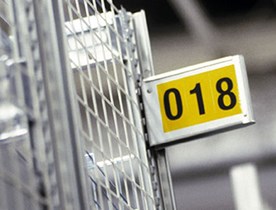 Please Contact us for details.