Used to sub-divide the shelf into smaller compartments. The divider is secured by four pins that fit into the oval holes along the top and bottom of the shelf and shelf beam.
One set of pins are shorter than the other, these shorter pins are located at the bottom of the divider and fit through the holes in the shelf/beam below.
The divider height is fixed to the shelf pitch as it requires to be secured to both the shelf above and below.
Note: This accessory can only be used with short span shelving.
The divider location is adjustable on a 59.25mm pitch.
Size: The height is the pitch between the top surfaces of the shelves, (i.e. the clear compartment height plus a 31mm shelf).
Material: 0.6 or 0.8mm thick steel dependent upon divider size
Finish: Pre-galvanised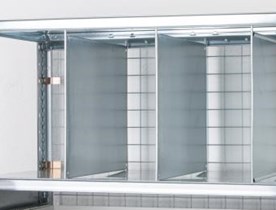 Please Contact us for details.