Directors of Doncaster business, Premier Storage & Office Solutions, are putting their stamina and fitness to the test in July – and all for a very good cause. Mark and Sarah Jepson are joining a team from Constructor UK (Dexion – one of the company's suppliers) to take the Three Peaks Challenge in aid of the children's charity, Action Medical Research.
On 2nd July Mark and Sarah will start their ascent of the three highest mountains in Scotland (Ben Nevis at 4,409ft), England (Scafell Pike at 3,206ft) and Wales (Snowdon at 3,560ft). As if this isn't a challenge in itself, they are attempting to do the whole thing in 24 hours!
Training has been going well, with Scarfell Pike and Snowden already under their belts – with the help of a few jelly babies to keep their sugar levels up, and their very excited cocker spaniels, Molly and Storm, who like to show the couple how it's done by racing up and down the mountains! The cold and wet weather on Snowdon didn't put them off too much and they managed both climbs in very respectable times.


Mark says "It's a privilege to be able to take this challenge in aid of such a fantastic cause. Despite enormous progress in medicine, there are still hundreds of thousands of sick and disabled children who need our help. Children like Tom, who has the fatal muscle-wasting condition Duchenne muscular dystrophy. Action Medical Research has been funding medical advances since 1952, including introducing the first polio vaccines in the UK, developing the use of ultrasound technology in pregnancy and much more. And it can do even more if it can secure the funding.
We are hoping to raise £2,000 by completing the challenge and thanks to generous pledges from our friends, family, colleagues
and work associates we are nearly
half way there. It would mean so much to so many children if you could help us meet our target and dig deep to sponsor our team. We are training hard and will push ourselves and do our very best to complete the challenge in 24 hours. We'll be looking to do Ben Nevis in approx. 5 hours, Scarfell in 4 hours and Snowdon in 4 hours. We will of course make sure we meet Action for Medical's extra challenge this year – and will get Paddington to the top of the mountains!"
You can follow Mark and Sarah's progress so far on Facebook at Premier Storage & Office Solutions, or contact them on 01302 300200 if you want to have a chat. You can sponsor them by going to https://www.action.org.uk/sponsor/constructors016tp21 or contact
[email protected] www.premier-storage.co.uk T: @palletracking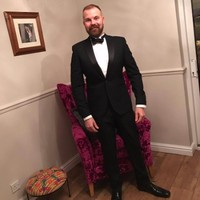 I started in the Racking and Storage industry in 1997 and I have met lots of interesting people along the way. I Hope you've enjoyed my Blog please leave me a comment.